6 Enterprise IoT Platforms that will Boost your Business
In order to gain real value from Internet of Things (IoT), it is significant to have an enterprise IoT platform to create and manage applications, to run analytics, and secure your data. IoT platforms are designed to deploy applications that can take care of numerous connected devices kept at different locations. These platforms are capable of managing, monitoring, and controlling connected devices. They can handle situations like connecting devices and extracting data from a large number of endpoints, which are sometimes placed at inconvenient locations with intermittent connectivity.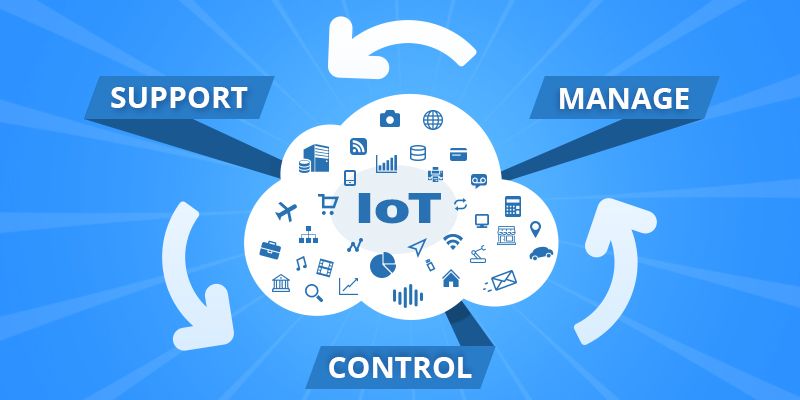 In our previous post, we discussed the growing significance of IoT systems, and their role in improving our lives and work. In this article, we will look at five of the leading Enterprise IoT platforms that accelerate digital transformation in enterprises.
Suggested Reading: Why Digital Transformation initiatives should begin with Agile
Meet the Leading IoT Platforms
Multiple IoT platforms are available in the market. Each platform has its own unique features, that makes it a preferred choice for businesses. Let us check out the top five enterprise IoT platforms.
AWS IoT Core
This is a managed cloud platform that helps in connecting devices, and interacting securely with cloud applications and other devices. AWS focuses on the three building blocks of IT infrastructure- compute, storage, and database. From device management to visualization, AWS IoT Core aids most of the enterprise's needs. It supports billions of devices and can process and route trillions of messages to various AWS endpoints, in a reliable and secure manner. AWS IoT Core offers full-time connectivity, even when your devices are offline. It is easy to build rich IoT applications using the existing AWS services such as AWS Lambda, Amazon Kinesis, Amazon S3, Amazon Machine Learning, Amazon DynamoDB, Amazon CloudWatch, AWS CloudTrail, and Amazon Elasticsearch Service with built-in Kibana integration.
Let us have a quick glance at the benefits of AWS IoT Core:
Supports standard communication protocols (currently supports HTTPS, MQTT, and web sockets)

Secured communication using Transport Layer Security (TLS) cryptographic protocol

Communicate with any number of devices with low latency and less overhead

Continuously ingest, filter, transform, and route the data streamed from connected devices

Easy-to-use interface for cloud applications, mobile devices and connected devices

The Device Shadow Service allows you to retrieve the most recent state of your device, even if your device has gone offline

Job Service allows you to create and schedule job actions on multiple devices on a regular basis
Microsoft Azure IoT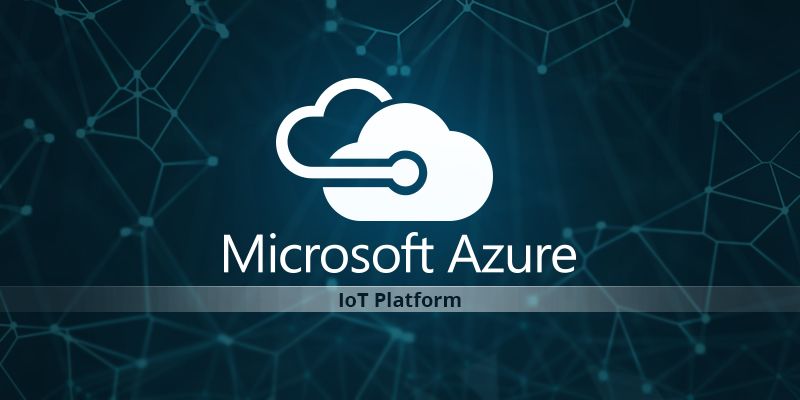 The two pillars that uphold Microsoft's Internet of Things offerings are the Azure IoT Suite and the Azure IoT Hub. These two services are taking Microsoft to the next-level in the enterprise IoT market.
Azure IoT Suite provides end-to-end architecture implementation support for specific IoT scenarios such as remote monitoring of devices, predictive maintenance that reduces downtime, or connected factories or industrial units. Azure IoT Suite has a set of extensible preconfigured solutions that offers a solution blueprint for enterprises to get started. These solutions are highly customizable. Azure allows to provision resources across its compute, storage, and data services.

Azure IoT Hub is core to the IoT Suite. IoT Hub acts as the gateway to cloud and other key IoT Suite services. IoT Hub provides bidirectional messaging capabilities between cloud and connected device and enables you to manage your devices. For instance, it is possible to configure, reboot, or perform a factory reset on one or more devices connected to the hub.
Advantages of Azure IoT:
Effortless development and testing with advanced tools integrated into MS Visual Studio

Developers can focus on core functionality without worrying about scale, failover, or deployment

Extensive reusability of existing resources that saves training costs

Pay for what you use- this reduces expenditure

Increases productivity with less development and maintenance costs

Easy to integrate with other Microsoft and Azure products such as Stream Analytics, Logic Apps, Power BI, Azure Web Apps, Cosmos DB, Azure Storage, Azure Machine Learning Services, Event Grid, and the recent Cortana Analytics Suite. Integrating Azure IoT with these services will enrich your IoT application.
IBM Watson
Watson's IoT platform allows you to perform powerful device management operations and connect a wide variety of devices and gateways. Watson facilitates secured data exchange between your devices by using MQTT and TLS. Startup businesses have open and free access to IBM Watson. One of the most significant features of Watson is that it addresses industry-specific IoT adoption challenges and opportunities. For instance, the offerings include IBM Watson for Automotive, IBM Watson for Insurance etc. The platform gives you the ability to improve your IoT landscape by integrating with other key Watson offerings such as cognitive analytics, mobile, security, and cloud capabilities. IBM Watson also offers Natural Language Processing, Machine Learning, and image and text analytics to enrich IoT applications.
Another IoT platform from IBM is the IBM Bluemix, which comes as a PaaS (Platform-as-a-Service). Known as the next-generation Cloud Application Development Platform, Bluemix offers built-in development environment and server. It provides extensive support for languages like Java Liberty, Node.js, and PHP.
Cisco Kinetic
This IoT platform allows the user to gain business value from their IoT data and meet challenges in a highly distributed environment. Its key modules are Edge & Fog Processing Module (EFM) and Data Control Module (DCM). The EFM allows the user to make critical decisions and compute data in distributed nodes. The DCM moves data from different systems to the right applications at the right time.
Its key features are:
Seamlessly extracting data from disparate resources using protocol adapters

Transforms data to a known format to simplify the construction of applications

Reduces, compresses, and transmits data in an optimal way

Able to add computational power anywhere in the network
Kaa IoT Platform
Kaa is a complete open-source middleware platform for building end-to-end IoT solutions, connected applications and products. Kaa provides an open, feature-rich toolkit for IoT product development that reduces operational costs and associated risks with less time-to-market. The platform seamlessly manages all the back-end heavy lifting so that vendors can concentrate on boosting their product value. Kaa is horizontally scalable with the potential to handle millions of devices. Regardless of the hardware involved, it facilitates cross-device communication, through a straightforward hardware integration procedure. Presently, Kaa provides SDKs for C, C++, and Java.
WSO2 IoT Server
WSO2 IoT Server is one of the most adaptive open-source IoT platforms available today. WSO2 enables device manufacturers to develop connected products with rich integration and smart analytics capabilities. The platform offers a complete API driven device type definition that eliminates the necessity to create deployable plugins. WSO2 provides self-service device enrollment and management for iOS, Android, and Windows devices. The IoT Server Framework extension is capable of adding more protocols and data formats. WSO2 IoT Server comes with pre-built visualization support for sensor readings.
Choosing the Right IoT Platform
Each IoT platform comes with several distinguishing features beyond its basic functionalities. Hence it is important to have rigorous evaluation criteria to choose the right IoT platform for your needs. The viability of an IoT platform is based on the assessment of the following factors:
Ability to scale, as the devices grow in number

Know the bandwidth of the platform provider

Connectivity protocols and versions supported, along with future roadmap of IoT protocol support

System performance- ability to handle critical events and take actions immediately

Security provisions such as end-to-end data encryption, identity-based authentication etc.

Disaster recovery strategy

Future-proof architecture

Interoperability: ability to integrate with existing workflows or ERP tools

Support for decentralized computing and cloud

Offline data processing support
The outbreak of the COVID-19 pandemic has forced enterprises worldwide to rapidly adopt digital transformation and IoT is one of the most popular methods. The impact of IoT in the healthcare systems have increased with remote patient monitoring of patients who have self-quarantined or seniors who may have medical conditions and are unable to visit the hospital due to current circumstances.
Need help evaluating your IoT platform?
Our IoT consultants have tremendous experience working in various IoT projects for multiple industries. If you are considering to incorporate IoT in your business, we help you with end-to-end IoT implementation, including platform selection. Please contact us to know more.
Want to discuss your project?
We can help!