Breaking Down Barriers- The surprising impact of cultural alignment in managed IT teams
The world has now entered the age of agility and resilience . And with it, we now see new opportunities for business owners to acquire niche skills and scale at speed. To keep up with growing ambitions and fast-track innovation, establishing a solid team with the right technical talent has never been more critical for future-forward enterprises. And this brings us to a tipping point where enterprises face challenges that they must overcome.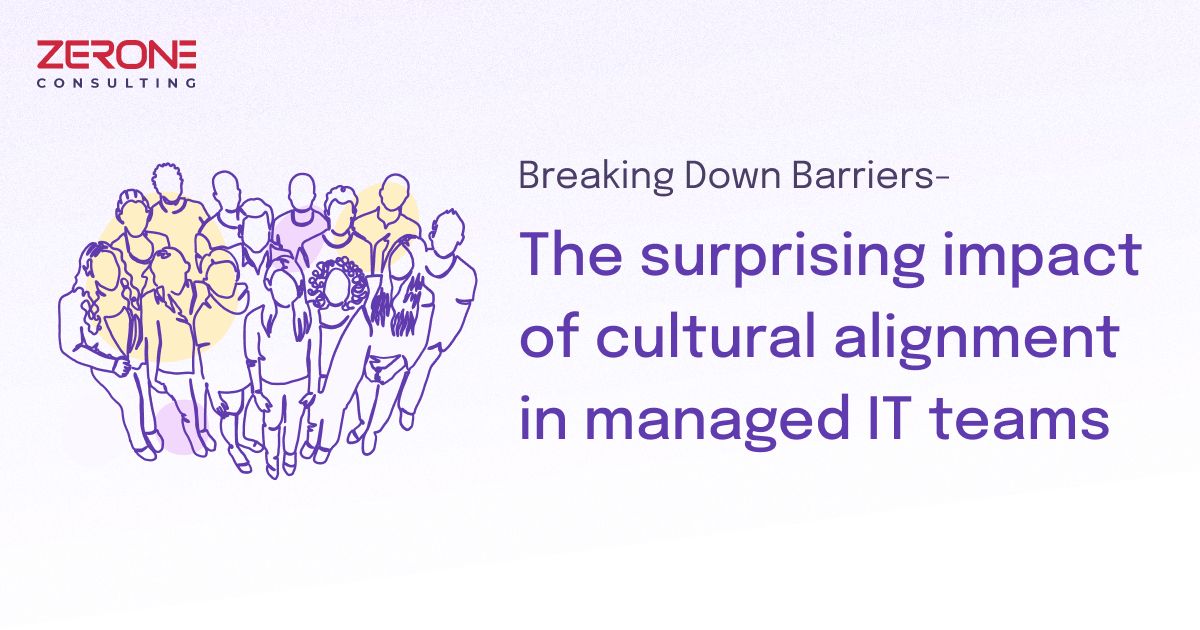 One of these challenges is the ongoing workforce crisis. In the post-pandemic era, the talent pool of software developers is extremely competitive. The US alone could lose $162 billion in revenue per annum due to the ongoing workforce crisis.To be successful, enterprises must bridge the gap between the available engineers and the labour pool required by working with external teams.
But to ensure success with external teams, it is crucial to align the organization's culture, values, and goals with its people. In this article, we will investigate various aspects of cultural alignment which is a key part to ensuring success with external teams.
Cultural alignment in managed IT teams:
Of late, enterprises have relied on Managed IT Teams to ensure successful product development. While many factors are involved to ensure success with managed IT teams, a critical yet commonly overlooked one is Cultural Alignment.
In software development, the demand vs supply gap for future-ready talent is increasing rapidly. To bridge this gap, enterprises are looking for IT teams that can easily integrate into their existing setup. And this requires introspection into the Cultural Alignment of the workplace.
So, without further ado, let us explore why cultural alignment is important when working with managed IT teams.
Cultural Alignment builds Workplace Confidence
Most enterprises undervalue the importance of working with culturally aligned teams. But building a culturally aware workplace is critical in building an effective and efficient outsourcing workflow. Latest research points to the fact that 91% of managers in the US feel that a candidate's alignment with the company culture is equal to or more important than skills and experience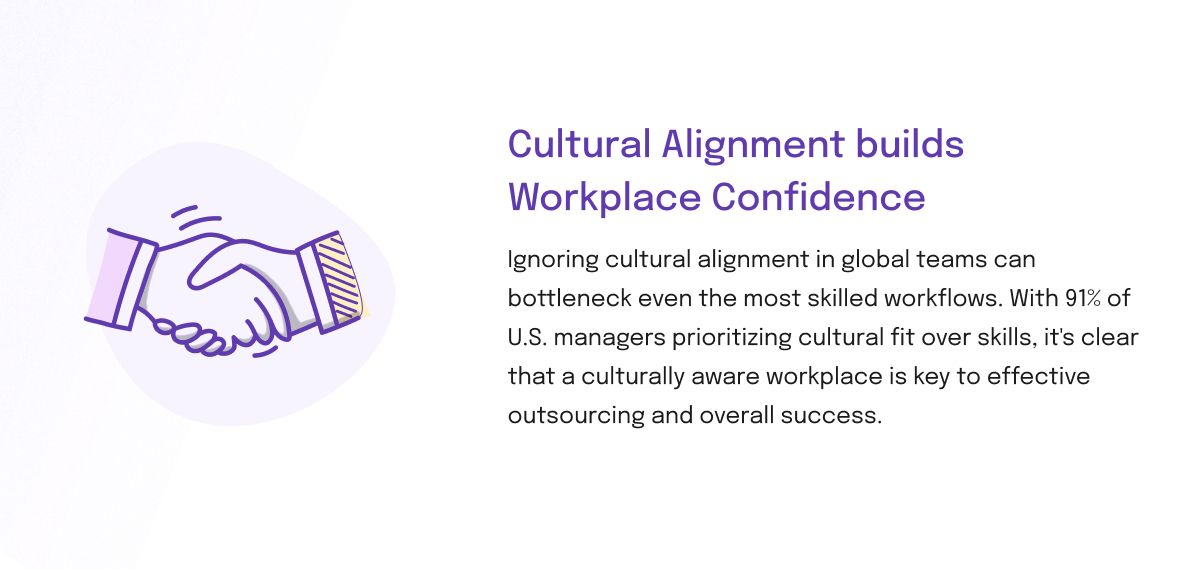 Intelligent extensions of in-house teams
Innovative leaders and successful CEOs know that aligning people beyond time zones and geographic locations is an ongoing process. With organisations looking to scale their businesses, we must culturally align Managed IT Teams with in-house teams. This harmony produces results that lead to a well-oiled machine — a smooth workflow in a compatible framework critical to any enterprise looking to the future.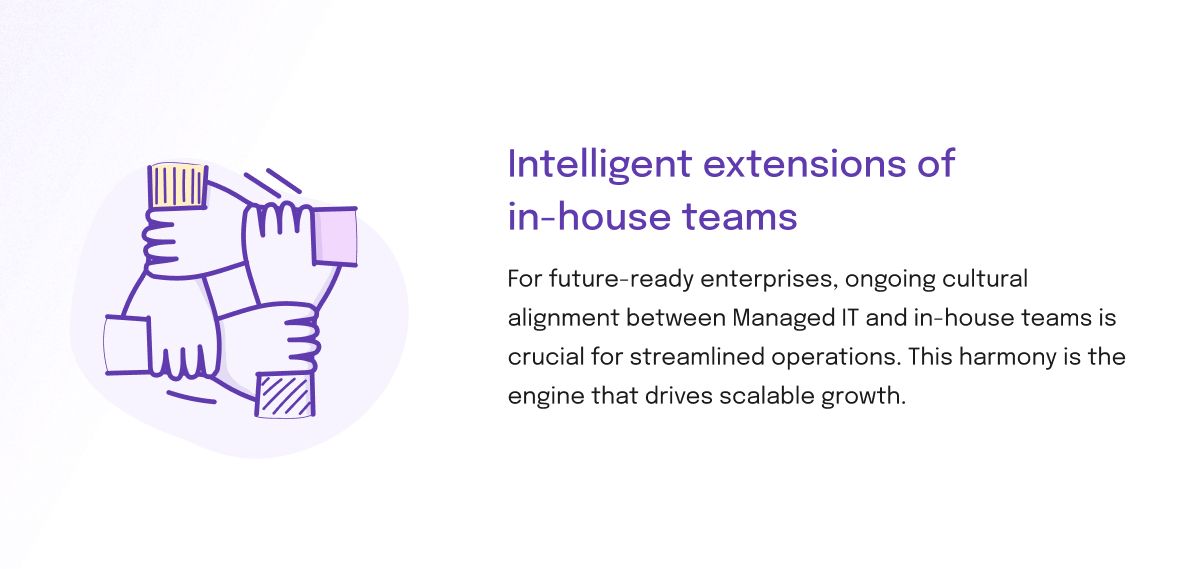 Improved Performance
Seamless team alignment of work practices, objectives, and behaviour can produce efficient results, irrespective of geographical limitations. People from diverse cultural backgrounds are used to different business etiquette. Learning the hallmarks of different cultures pays off. While software development partnerships can be predefined through many shapes and forms, the cultural element must be intact and strictly evaluated.
Ensuring Cultural Alignment in Managed Teams
1. Evaluate everything
A company's culture is defined by its leaders and management. The actions of leaders define the culture of a firm. Take note of the behaviour of the company's stakeholders before establishing a relationship with the managed service provider. Here are a few key points that you should consider:
Effective engagement and communication with teammates
A work environment built on respect and trust
2. Aligning Core Values and Vision
A company's core values and vision must align with your internal teams for them to work and produce effective results. To find out about MSP's end goals, you can investigate the following:
Marketing materials
Social media
Website
But, to find out in-depth about how the company operates, consider the team members — how are they putting up with these values, and are they successfully contributing towards the company's end goal? You will learn much about the company in the pre-contract calls and preliminary meetings.
3. Team Spirit that Cultivates Integrity and Responsibility
Managed IT Teams have gained popularity in the post-pandemic era. This means that the camaraderie between onshore and offshore teams is more critical than ever. Such collaborative spirit should be lauded and highly promoted, boosting team morale among both teams.
Recent data shows that 61% of employees cite 'trust in and with senior management' as an important factor determining their workplace satisfaction.
Therefore, focus on finding managed teams' providers whose leaders know how to emphasise the importance of a code of conduct and responsibility. Along with these qualities, mutual respect and communication play a huge role among colleagues in ensuring efficient work culture.
4. First Impressions and Communication are Key Elements
A successful relationship lays its foundation on effective communication. While you are still in the pre-contract stage, taking notes on the communication habits of the team leaders would be beneficial. Look out for subtle signs like –
Whether your software development team lead is patient enough
Can the managed service provider meet your expectations?
Are your messages being responded to promptly?
If you took notes in the pre-contractual meetings, you could save yourself from a major headache.
5. MSPs Ready to Unleash Growth Possibilities with You
With current market trends, managed teams will be projected to become an essential component of your business. You cannot work with people who are not open to accepting innovative ideas and/or are unwilling to inculcate them. Being a team player goes both ways. There should be clear-cut transparency in exchanging ideas and assessing the impact of constructive criticism and feedback.
Things to consider when going for managed IT teams:
Here are some quality traits to look for in your potential managed service provider:
Effective communication and clarity among employees
Open to new opportunities for growth
A sense of common purpose and strong core values
Effective collaboration for a better outcome
Boosting ethical behaviour
An organisation's culture is never truly revealed until you start working with them. However, open conversations with the stakeholders of the MSPs can give you a fair idea.
To operate in harmony, look out for contention points, and resolve any disagreement with the leaders — especially in the early stages. Finding common ground to operate is the best way to go ahead.
Looking to the Future
As more and more enterprises move towards managed IT service providers, we are witnessing organisations achieve quality results at cost-effective prices. Businesses should be open to geographic locations when looking for technical expertise and aptitude in software developers.
Cultural alignment plays a major role in building a successful relationship with your managed service provider. It ensures that the internal and external teams work as a cohesive unit. When aligned properly, your managed IT teams would feel like an extension of your in-house teams.
As a leading software development and R&D company, Zerone offers you exquisite engineering resources and development capabilities to work on a budget without compromising quality.
Reach out to us now to learn more about how we create an efficient workflow procedure at Zerone, and we will help to get your project moving.
Want to discuss your project?
We can help!