Innovation Labs: The secret weapon of successful enterprises in driving digital disruption 
Today's fast-paced business ecosystems have given rise to more business challenges. To jump these hurdles and move up in the technology space, Innovation Labs have become the new hotbed of creativity and experimentation. These labs serve as incubators for new technologies and ideas, allowing organizations to explore uncharted territories and push the boundaries of what's possible.
An Innovation Lab is essentially a dedicated space or team within an organization that focuses on researching, developing, and implementing new ideas, technologies, and business models.
From artificial intelligence to blockchain and beyond, Innovation Labs are at the forefront of the technological revolution and hold the key to unlocking the next generation of breakthrough innovations. So, if you want to stay ahead of the curve and drive growth and success for your organization, it's time to invest in an innovation lab and embrace the power of new technologies.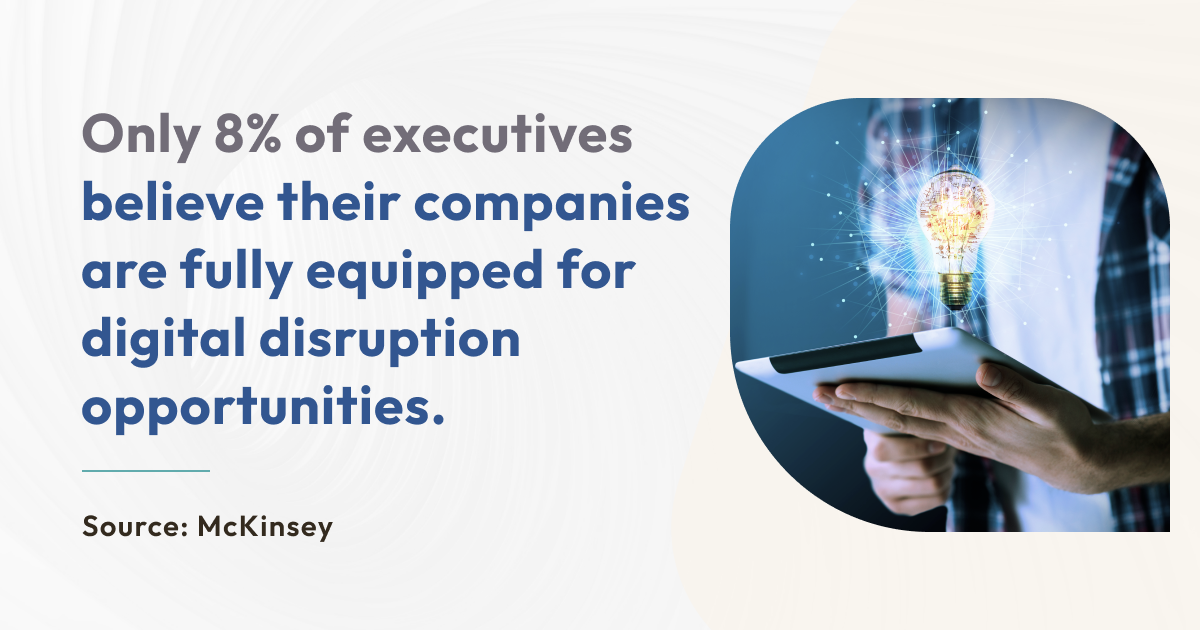 Technology Innovation Labs: A Game-Changer for Your Business
In this disruptive age filled with rampant advancements and digital transformation across industries, innovation is no longer a low-priority external venture. It has now become a substantial strategy for addressing unmet needs and critical challenges, ultimately improving your business performance.
Successful enterprises understand this need to innovate, especially to drive growth and stay ahead of the competition. This need has urged many organizations to turn to Innovation Labs as a Service.
These labs provide a dedicated space and team for exploring, evaluating, and implementing new and emerging technologies to create innovative solutions that meet customers' evolving needs.
A recent McKinsey & Co study showed that a staggering 80 per cent of executives believe their current business is vulnerable to disruptive technology, with 84 per cent recognizing the critical role of innovation in driving business growth.
Enterprises in the ever-evolving technology landscape are leveraging Innovation Labs as a service. It helps businesses to utilize effective research and development strategies to enhance existing products, launch new services and technologies, and avoid obsolescence. Through exploring, analyzing, and evaluating disruptive technologies and industry trends, R&D professionals can build POCs, prototypes, and MVPs that are created to fulfill a specific market need.
Innovation Labs also facilitate the exploration and implementation of disruptive technologies, such as Artificial Intelligence (AI), Natural Language Processing (NLP), Big Data, and Cloud, to create new solutions that drive competitive advantage. One key benefit of these labs is the speed at which ideas can be validated. With access to an experienced team of developers, ML engineers, QA specialists, and product managers, Innovations Labs offer a shorter time-to-market for innovation.
Making Informed Decisions: When to Start and When to Avoid Setting Up an Innovation Lab
As leaders of businesses in the tech space, it is imperative for us to understand the need for constant innovation in driving business growth and staying ahead of the competition. One way to do this to establish an Innovation Lab within your organization. However, it is crucial to approach the process strategically, and assess if building one is the right decision for your company.
Before investing in an Innovation Lab, ask yourself the following questions:
Can your company afford the cost of launching and running an Innovation Lab?
What specific goals do you hope to achieve with the lab?
How will it contribute to the organization's overall success?
Will an Innovation Lab help solve any of your company's current challenges, and if so, how?
What metrics will you use to measure the Lab's impact on the business?
Do you have the necessary resources and personnel to run the lab effectively on a daily basis?
As a disruptive player in the industry, you can foster innovation within your enterprise by using Innovation Lab as a Service. Innovation Lab as a Service (ILaaS) is a model where companies outsource their innovation initiatives to specialized service providers. ILaaS providers offer a range of services to help companies innovate, be it ideation workshops, prototyping, or experimentation. The ILaaS model allows companies to access specialized expertise and resources, while saving on costs and avoiding the risk of building and operating an internal innovation lab.
ILaaS providers also offer scalability, flexibility, and faster time-to-market for new products and services. Innovation Lab as a Service can be tailored to meet each company's unique needs, from ideation and product design to prototyping and testing. Companies can significantly reduce the risk of failure and free up internal resources to focus on core business operations by outsourcing innovation to a specialized provider.
So, what's the takeaway?
Innovation is a critical component of success in today's market. A growing business has to maintain the momentum to keep up with rapid advancements in the industry and the evolving demands of customers. And this is where businesses turn to Innovation Labs.
Innovation Labs offer opportunities to disrupt traditional industries by creating new, innovative solutions that challenge the status quo and create new market spaces. This proactive approach to disruption can position your business as an industry leader and help you stay ahead of emerging trends and technologies.
Innovation Lab as a service is a way for companies to accelerate their innovation process and stay ahead of the curve by outsourcing innovation to a specialized provider. It helps businesses to reduce the risk of failure, free up internal resources, and access a wider pool of talent and expertise. If you want to turn disruption in your favor, Innovation Lab as a Service is the right approach to adopt.
At Zerone, we offer Innovation Lab as a service designed to revamp your digital acceleration and generate groundbreaking ideas, products, and services in your industry.
Our team of innovation consulting experts and R&D engineers aid you in integrating innovative ideas into your business by evaluating the latest technologies and industry trends.
Get in touch with us today to get started on this innovation journey.
Want to discuss your project?
We can help!