Re-Imagining Outsourcing in the Post-Pandemic Era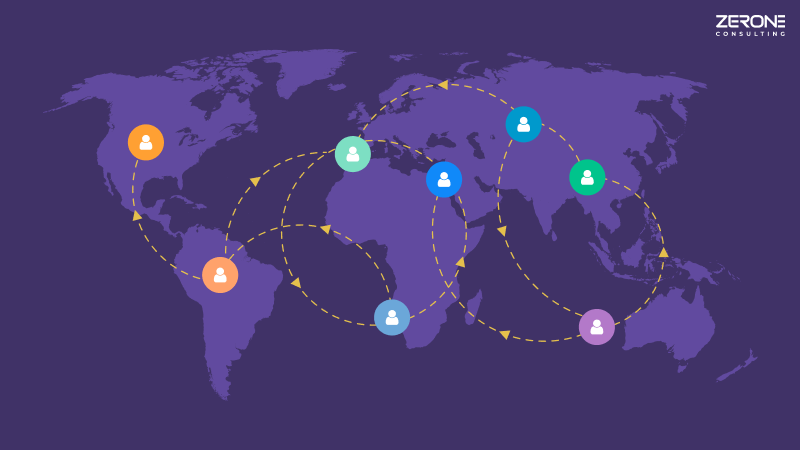 The Covid-19 crisis has changed the way businesses operate. Some of the changes were forced upon us, while others resulted from innovation in a crisis. With the advent of the pandemic, we witnessed changes in the workforce, employer/employee relationships and the business ecosystem. In the post-pandemic era, organizations have realized the importance of technology and digital transformation for their evolution across all sectors.
In the new normal, with the increase in dependency on digital, enterprises are focusing more on relationships with their IT service providers. Organizations are fighting the effects of COVID-19 by aiming for financial security through revenue generation and outsourcing various functions. Post Covid-19, organizations must gain a competitive edge by focusing on areas they can leverage to improve efficiency and reduce costs.
In the post-pandemic world, experienced outsourcing providers are helping enterprises overcome productivity challenges by adding resources that may be lacking in-house. Through outsourcing, enterprises are creating channels of additional funds by eliminating expenses from non-core activities, which provides more opportunities for growth and innovation .
Why the pandemic led to an increase in IT outsourcing
Acceleration of digital adoption
With the shift to remote working model, new opportunities are emerging for outsourcing. The pandemic has accelerated digital adoption by several years. As businesses adapt new strategies to implement modern tech solutions, they rely on external suppliers to achieve this faster.
Highly productive remote teams
As the phases of COVID-19 progressed, several studies have validated that virtual teams are highly productive. With the shift in employers' skepticism about remote workers, enterprises are now looking for external scalable teams for business support.
Driving Innovation
The outsourcing model is no longer viewed as just a cost-reduction measure. Enterprises are now embracing IT outsourcing to drive innovation and develop resilience in the new digital landscape.
Low to no risks
In the new normal, it is possible to find an outsourcing partner that offers risk-free outsourcing solutions and eliminates all risks associated with outsourcing your project.
How can your enterprise benefit from IT outsourcing?
In layman's terms, outsourcing means obtaining services from outside suppliers from people, companies, or businesses. With the shift to the remote working model, there are many important functions that an outsourcing provider is bringing to the business.
In a post-Covid world, companies are tapping into a new business-supplier ecosystem and operating in a new environment. All the functions in a company or business that are non-core (day-to-day routine tasks that add little value to the business) can be easily outsourced, and a more productive function can occur.
There are many benefits of outsourcing your business processes. Some of them are:
Improvement of core functions
With outsourcing, businesses can easily focus on future strategies, improving efficiencies with their in-house staff, investing in research and development, and increasing brand value. According to a recent survey from Statista, the global IT outsourcing market will be worth $425.19 billion in 3 years.
Cost-controlling
This is the most obvious benefit one can expect with outsourcing. If you can find an experienced and trusted outsourcing partner, you can expect a cost-saving of around 60-70% with high-quality output.
Increased efficiency
Another huge advantage of outsourcing your business needs to a trusted, experienced outsourcing partner is increased productivity and efficiency. Choosing the right partner with diverse expertise and experience can help you to deliver complex projects. In a recent survey by Clutch, it was reported that around 24% of small businesses outsource to increase the efficiency of their business.
Access to top talent
When you work with the right outsourcing partner, you get the opportunity to work with the top skilled talent to suit your business needs. Gain a huge competitive advantage by building a world-class team faster with pre-vetted resources to scale your business to new heights. In addition, outsourcing allows enterprises to access skillsets that might not be available in-house.
Scalability
Outsourcing can help to quickly scale delivery capacity by extending in-house teams with flexible outsourced resources ideal for changing business requirements. Collaborating with the right partner allows you to have the flexibility to reconfigure the team as your business demands.
According to a recent survey by Deloitte, cost reduction is the top reason for outsourcing, followed by flexibility, speed to market and access to tools and processes. After the pandemic, India is becoming the leading IT outsourcing country in the world. According to a report by Outsource Accelerator, India's IT outsourcing industry will witness a CAGR growth of 7.25% by 2025, reaching INR 8,830 billion.
How to Select Outsourcing Partners in The Post-Pandemic Scenario?
The pandemic has encouraged many businesses to switch to outsourcing partners for various functions. In the post-pandemic scenario, companies are searching for outsourcing providers that can intensify their business resilience and agility. But how you select such providers is the question, and in this section, you will get a detailed approach to the same.
Experience counts the most.
In the post-pandemic era, it is important to find a partner who is detail-oriented and committed to every small client requirement. Look for a partner with a well-established reputation supported by a great track record. In addition, the partner should be well equipped with technical expertise in multiple areas with relevant experience and domain knowledge in developing a specific kind of product.
The partner should be flexible.
Everyone keeps talking about flexibility because having a partner that does not have room for flexible changes can create issues for your company. After all, your main aim is to adjust and complement your working environment. So, keeping all the possibilities in your mind, choose the one that allows flexibility as business demands.
Quality over quantity
The working conditions have thoroughly changed, but there is no change in the quality of what you are providing to the customer. Search for a partner that makes quality their priority and meets the deadlines with high-quality work.
Every business's definition of quality orientation is different. Therefore, for your business, you must qualify some direct qualities. Your partner must meet these requirements all the time they work for you. If not, then you must reconsider the terms.
Risk-free outsourcing partner
Choose a partner that takes work and worries out of offshore outsourcing with a perfectly matching team for your next project. You should look for providers offering milestone delivery with trial phases and a warranty to eliminate all risks associated with outsourcing.
Maximum Project Visibility
Loss of visibility and control is one of the biggest risks associated with outsourcing. When you are looking for an outsourcing partner, choose the one that provides a clear picture of the project performance, distribution of responsibilities and project goals at every stage of the project. In addition, it is crucial to use the right set of tools and platforms to overcome challenges in communication, collaboration and data sharing when working with outsourcing teams.
What's Next for The Outsourcing Sector?
The demand for outsourcing will continue to rise in a post-Covid world, making the industry more competitive. In the new normal, outsourcing providers must find ways to improve their services and even exceed clients' requirements. Here are a few predictions for the future of the outsourcing sector:
Digital transformation must be a priority.
One thing that the pandemic has taught us is that staying technologically updated is a must. In addition, the pandemic has made it evident that technological innovations will keep shaping the global business markets. Enterprises will be looking for providers that will enhance their technology and support their digital transformation
Introduction to co-sourcing
Unlike traditional outsourcing, co-sourcing emphasizes collaboration and partnership. In the co-sourcing model, in-house teams collaborate with a third party to finish a project. Co-sourcing can give you a competitive edge by having some internal control over your processes. Post- Covid-19, enterprises can take advantage of co-sourcing by partnering with a provider committed to meeting their shared goals.
More Global Value Chains
To adapt to ever-evolving tech innovations, we will see outsourcing providers collaborating to offer state-of-the-art services to their clients. Organizations can harness the value networks by finding the best provider suited to their needs and exploring new business opportunities.
Closing Thoughts
The COVID-19 pandemic has influenced every sector, causing businesses to develop new strategies to combat the effects of the pandemic. Business leaders have realized the importance of investing in supplier relationships and adapting to the new digital landscape. The IT outsourcing industry is adapting quickly to the new dynamics posed by the Covid-19 crisis.
Businesses today need to align with the ever-evolving technological advances and sophisticated approaches. Organizations must re-imagine the perfect blend of in-house expertise and external resources to manage their operational processes. The outsourcing industry is a boon to business owners as it allows them to focus on core competencies and set new goals for their business growth.
Get connected to us to know more about risk-free outsourcing solutions and drive more growth opportunities for your business.
Want to discuss your project?
We can help!