Why Diversity Matters in Tech Teams : The Business Case for Inclusion
Introduction
As technology companies strive for industry leadership, it's becoming increasingly clear that diversity and inclusion (D&I) are crucial. C-level executives, such as CIOs, play a vital role in fostering a culture of inclusivity within their organizations.
Prioritising D&I enables technology leaders to attract and retain a diverse workforce, driving profitability and value creation. According to McKinsey & Company , enterprises that prioritize D&I outperform their competitors and are better equipped to meet the demands of a diverse customer base.
To shed more light on the subject, let us explore how technology executives can actively cultivate inclusive cultures and leverage the benefits of a diverse workforce.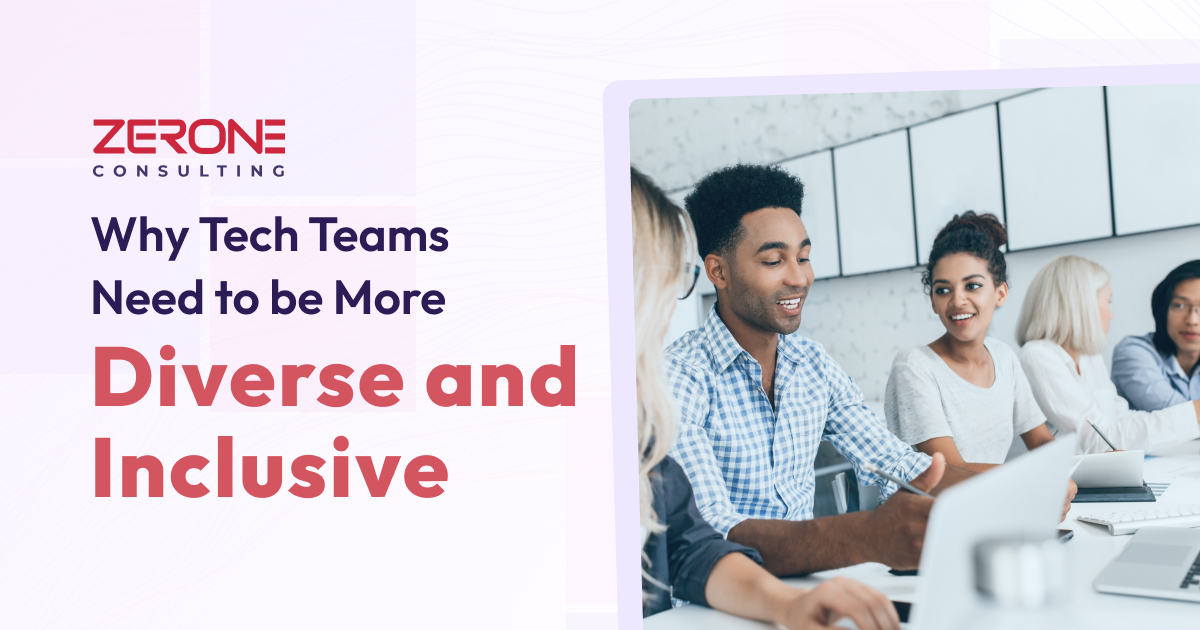 The spiking demand for diverse and inclusive tech teams
Diverse and Inclusive teams have become a benchmark in the tech industry, especially within leadership, and the demand is on from all stakeholders of the business.
Customers:
Customers are increasingly aware of a company's commitment to diversity and inclusion, making it both a moral imperative and good business sense in this digital era. Research has shown that a diverse and inclusive team can increase customer satisfaction and loyalty.
In fact, a study by TopDesignFirms found that 67 per cent of consumers are more likely to make a second purchase from a brand that prioritizes diversity and inclusivity. Additionally, a diverse advertisement is 60 per cent more likely to persuade a customer to make an immediate purchase. This underscores that prioritizing diversity and inclusion can give companies a competitive advantage.
Investors
Investors have clear data that diverse leadership teams tend to outperform less diverse teams financially. McKinsey & Company analyzed data across 1,000 companies from 15 countries, finding a strong correlation between financial outperformance and diverse leadership teams. This is a compelling argument for investors to prioritize diversity and inclusion when considering potential investments.
Future and Current Employees:
Current and future employees demand a more diverse and inclusive workplace. A Glassdoor survey found that 67 per cent of job seekers factor in workplace diversity when evaluating employment opportunities, while over 50 per cent of current employees want their workplace to be more diverse and inclusive. Therefore, companies that prioritize diversity and inclusion will have a better chance of attracting and retaining top tech talent.
The impact of diverse and inclusive teams
Increasing focus on product accessibility and learnability
As a leader, it's essential to understand that a diverse and inclusive tech team is crucial for creating inclusive and accessible products for all users. When tech teams are diverse, they are more likely to identify and understand the needs of a wide range of users, including those with disabilities, different ages, and those who speak other languages. This leads to products that cater to a diverse set of users and, in turn, benefits the business.
Better at solving complex issues, managing risk, and spotting new opportunities
Diverse and inclusive teams are proving more effective at solving complex problems, managing risk, and spotting new opportunities. In fact, according to a study by McKinsey & Company , diverse teams are 35 per cent more likely to outperform their non-diverse counterparts.
This is because diverse teams bring different perspectives, experiences, and skills to the table. This leads to more creative problem-solving and decision-making, which can ultimately lead to increased innovation, improved performance, and a competitive advantage in the marketplace.
In today's fast-paced tech industry, where agility and innovation are critical to success, having a diverse and inclusive team can be a game changer.
Building products that are as diverse as their users
Diverse and inclusive teams in the tech industry help build products representative of the user base. These teams bring a variety of perspectives, experiences, and skill sets that lead to more innovative and effective solutions.
A diverse team is more likely to be aware of the potential positive and negative impacts that the product may have on different user groups and, therefore, can design and develop products that are more user-centric and accessible for all.
This leads to increased user satisfaction, revenue, and improved brand reputation. In today's global market, having a diverse and inclusive team is not just a moral imperative but also a business imperative to stay competitive in meeting the demands of a diverse user base.
Driving resilience through an inclusive culture
An inclusive culture can be a powerful driver of resilience in the tech industry. Fostering a culture that values diversity, equity, and inclusion help enterprises and leaders tap into the unique perspectives and experiences of their employees and team members, leading to increased creativity, innovation, and problem-solving.
Building an inclusive culture also improves employee engagement and retention, ultimately driving business success. When teams experience belonging and inclusivity, C-level executives can ensure that their organizations are better equipped to navigate the ever-changing tech industry landscape.
Better D&I drives inclusive growth
Prioritizing the inclusion of individuals from different backgrounds, cultures, abilities and experiences can help tech teams better understand and anticipate the needs of diverse users. Inclusive teams are also more likely to identify and address biases in products, including algorithms or data sets that negatively affect underrepresented groups.
A recent Boston Consulting Group study found that companies with more diverse teams had 19 per cent higher revenues due to innovation. C-level executives at B2B tech companies should recognize the value of diverse and inclusive teams and actively work to create them. This benefits not only customers but also the company's bottom line. Prioritizing diversity and inclusion gives tech companies a competitive advantage and helps them meet the needs of an increasingly diverse customer base.
Want to discuss your project?
We can help!