Winning the war on Tech Talent Shortage: Guide for C-Suite Executives
Introduction
Leaders worldwide have always known that finding, hiring and retaining top talent isn't easy. And with the COVID-19 pandemic causing an unprecedented wave of tech adoption, it's become much more difficult. The rapid digital transformation of enterprises has created a shortage of skilled developers, and the limited pool of engineers is making it harder for organisations to execute digital transformation initiatives.
To stand a chance at winning the war on tech talent shortage, organisations must address the gap between the available engineering talent and the labour pool required to execute digital transformation initiatives. As we continue to explore and invest in emerging technologies, businesses need to revise their employee value proposition, especially for technical talent. As forward-thinking enterprises, we must ask ourselves, is there a way to solve this talent crisis and stay ahead of the curve? Let us explore this further and work towards implementing a solution.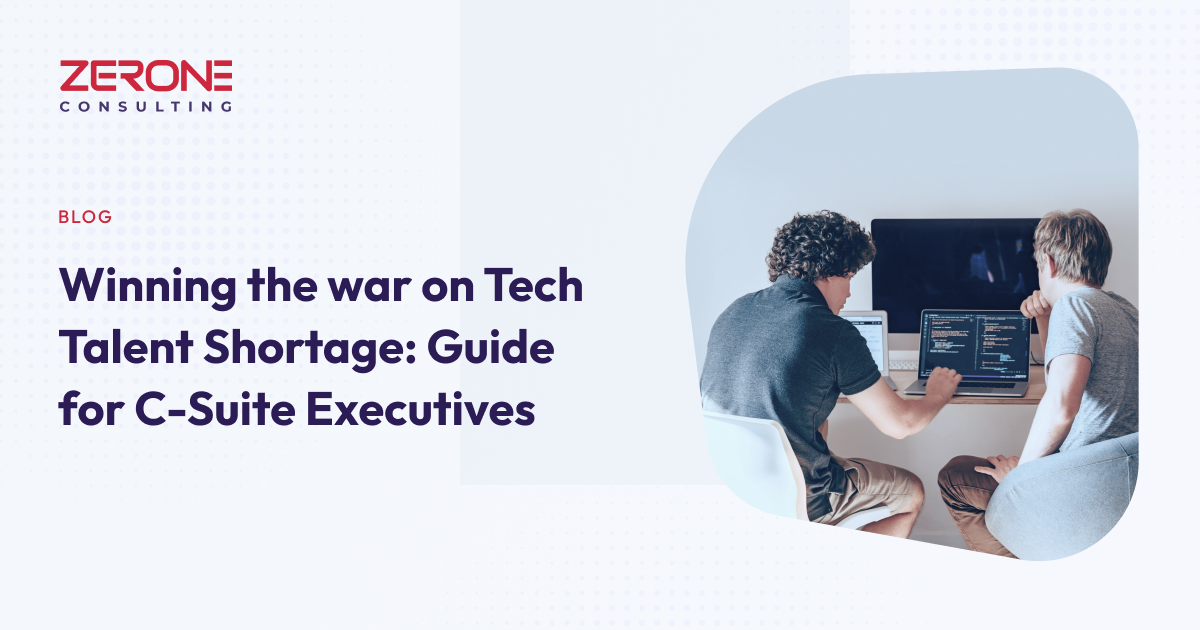 Exploring the demand for tech talent in 2023 and beyond
As industry veterans, it is our responsibility to stay informed about the current state of the tech talent market, and recent data shows that we are facing a significant challenge. A recent survey indicates that only 48% of engineers plan to remain with their current employer in the coming year. This, combined with the high turnover rate of tech talent in the post-pandemic era, presents a significant challenge for organisations as we look to attract new talent.
Furthermore, according to the U.S. Bureau of Labor Statistics, there will be a need to fill nearly 200,000 developer jobs each year through the decade's end. As we look to deploy new tools and technologies to enhance business outcomes, it is critical that we have the necessary IT developers to implement these advancements.
The predictions of renowned market intelligence firm IDC further demonstrate the gravity of this issue, forecasting a shortfall of four million software developers by 2025. And a Gartner survey highlights IT leaders' concerns about the scarcity of software talent, which poses a significant challenge in adopting emerging technologies.
In today's digital ecosystem, every business needs technical resources to run operations effectively, so it is essential that we understand the real impact of these talent deficits. This is a challenge that requires immediate attention and proactive solutions.
The business implications of the tech talent shortage
In software development, high-caliber engineers are critical in driving product innovation and overall business performance for organisations. However, the current shortage of qualified developers is causing delays in project timelines and putting strain on enterprise resources, particularly regarding hiring budgets.
Studies have shown that filling technical roles takes 50% longer than hiring for other positions, which is a significant concern. This shortage has also hindered innovation initiatives as many enterprises look to recover from the sudden shift resulting from the pandemic. Despite these challenges, we all need to recognise that accelerating the adoption of emerging technologies is crucial to driving innovation and gaining a competitive edge in our industry.
However, the need for quality developers creates significant problems, such as higher costs, lost revenue, and difficulty competing in the ever-evolving technology landscape. As a result, organisations must introspect into strategies that can help navigate this current crisis of developers. These strategies should be designed to architect digital solutions keeping viability, scalability, and security into account. Only by doing so can we stay ahead in the race.
Strategies to tackle the shortage of software developers
1. Partner with outsourcing companies:
Consider the strategic benefits of partnering with an outsourcing software firm. They can act as an extension of your organisation while delivering ongoing value through a wide range of services to meet your evolving business needs. Collaborating with a respected outsourcing partner can assist in addressing concerns such as cost optimisation, performance optimisation, and facilitating digital transformation.
By partnering with IT outsourcing companies, enterprises gain access to a wider pool of skilled developers and can optimise the allocation of internal resources towards more strategic endeavours. This approach allows enterprises to focus on core competencies while leveraging the expertise of a trusted partner to drive growth and innovation.
2. Utilise global HR platforms:
Build distributed teams with the help of Global HR platforms to assist in hiring top talent from across the globe. These platforms streamline international operations without the hassle of navigating through local compliance, benefits, taxes, and more. By leveraging these platforms, you can reduce the time-to-hire, eliminate hiring missteps, and recruit high-calibre engineers at a reduced cost.
3. Adopt low-code development solutions:
Adopt low-code technology application platforms that enable IT leaders to build custom applications with fewer developers, with more streamlined and efficient application development. This can be particularly beneficial in the current digital landscape, where businesses can quickly create responsive and adaptable applications using low-code development solutions.
4. Retain existing tech talent:
Retain and upskill your current software development teams. This is a cost-effective strategy to address the potential shortage of developers. Investing in your existing employees ensures that your organisation has the necessary skills and expertise to meet current and future business challenges. In addition, offering competitive compensation packages can also help to retain top talent and prevent disruptions in service delivery.
5. Use managed service providers:
Use managed service providers (MSPs), a trademark of agile software development. In MSPs, team members manage their workloads, delegate work among themselves and engage in team decision-making. These cross-functional groups are directed towards business needs and take ownership of each project's success by bringing out the best in a collaborative group.
6. Invest in boot camps:
Utilise coding boot camps to accelerate business growth, expand talent pipelines, and boost team performance. These programs empower employees by building knowledge of emerging technologies and exposing them to the practical reality of development. Hiring graduates of these boot camps can immediately alleviate tech talent shortages and help businesses with innovation initiatives.
7. Use online communities to scout for tech talent:
Build or encourage online communities in your organisation. These empower developers to exhibit their skills, establish connections with potential employers, and often provide job boards or career resources. Online communities that may facilitate the recruitment of tech talent include Stack Overflow, GitHub, LinkedIn, Reddit, Dribble, AngelList, and Toptal. These communities offer job boards, company profiles, and the opportunity to engage with and contact prospective candidates.
8. Explore the emerging countries for developers:
In the post-pandemic era, the success of technology-led companies depends on choosing developers from top outsourcing countries. The Global Skills Index has identified several nations as leading sources of tech talent, including India, Ukraine, Vietnam, Romania, and the Philippines. These countries offer a wealth of skilled professionals by leveraging the best regional IT providers and serving as a hub for software outsourcing to transform how businesses are conducted.
9. Participate in hackathons:
Participate in hackathons to significantly reduce costs compared to traditional hiring processes to access a larger pool of potential candidates. Hackathons have emerged as an effective means of identifying and evaluating a wide range of conventional and unconventional talent. They offer a unique opportunity to hire individuals with specific skill sets and to assess their programming abilities in a practical setting. Hackathons also allow companies to establish relationships with talented developers and build their reputation as innovative and supportive organisations within the tech community.
Looking to the future
Hung Lee, a respected influencer in the recruiting field, has highlighted that traditional hiring practices, prioritising experience and credentials, can negatively impact the available talent pool. The need for more tech talent is an ongoing issue that requires innovative approaches, especially in the ever-evolving technological landscape.
Businesses must act now to prevent the talent gap from disrupting their operations and supply chains. Enterprises need to recognise the importance of adopting innovative strategies to increase productivity and pursue innovation projects to stay ahead of the disruption curve.
As a leading software development and R&D company, Zerone offers the best technical resources and development capabilities to work on a budget without compromising quality. We have an efficient workflow procedure that helps get the project moving. We encourage you to reach out to us now to learn more about how we can help your organisation address the tech talent shortage and drive success in the digital age.
Want to discuss your project?
We can help!