Growing Trends Of The Healthcare Cognitive Computing Market
The familiar adage is being rewritten and it might even appear like this: "An apple a day plus cognitive computing healthcare keeps the doctor away!"
Healthcare is not the only industry to be swept by the digital waves, but it is one among the pioneers to incorporate the digital dynamics. Cognitive computing is transforming human-machine collaboration into business value, and healthcare is no exception to this change. Remember the AI-enabled talking OS in the 2013 science-fiction Her? The OS advises the hero when to have food, when to exercise, when to meditate and suggests how to keep track of his health. In reality, such kind of extensive smart machine invasion is impossible in our lives. However, cognitive computing and AI can bring positive changes in the healthcare domain.
Analysis of the healthcare cognitive computing market
The prominent market research firm "Research And Markets" has released its latest report on Healthcare Cognitive Computing Market and the study reveals interesting facts and identifies accelerators behind the growing role of it in healthcare.
In this article, we are trying to summarize the findings discovered in the above mentioned research.
Insights revealed:
The healthcare cognitive computing market is growing in leaps and bounds due to the increasing burden of chronic diseases, access to improved technology, and the rapid adoption of third computing platforms.
The study sheds light on market segments including the leading technologies used in healthcare cognitive computing and the growing adoption of cloud in the industry.
Classifying key technologies used in Healthcare cognitive computing: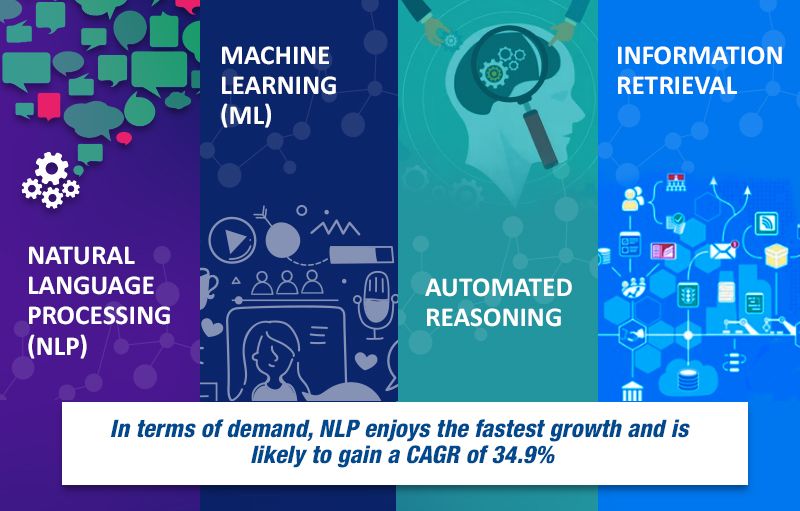 Natural Language Processing (NLP) in healthcare supports comprehensive evaluation process and facilitates management of patient feedback. The technology enables clinical staff to make informed decisions and empowers caregivers to respond swiftly to patient needs.
Though both Cloud and on-premise are the dominating deployment models in healthcare, Cloud is more preferred by industry leaders.
**Reasons behind growing cloud adoption:**italic text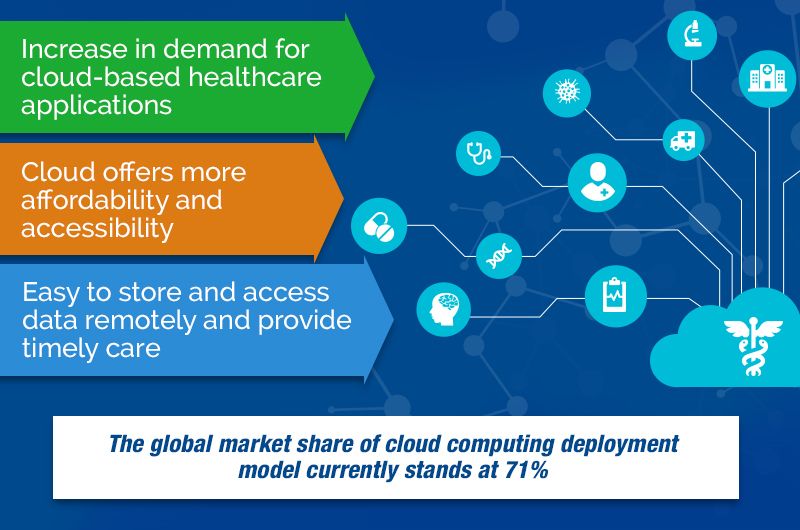 Insights on usage trends:
Cognitive computing is most used by providers in the healthcare industry. The providers lead with a global market share of 44.5%. Cognitive technology is mainly used for detection and treatment of rare diseases. According to the study, APAC is the fastest growing market for healthcare cognitive computing solutions. Various reasons contribute to the growth of APAC as a market leader.
**Why Asia-Pacific (APAC) has a rising demand for healthcare cognitive computing?**italic text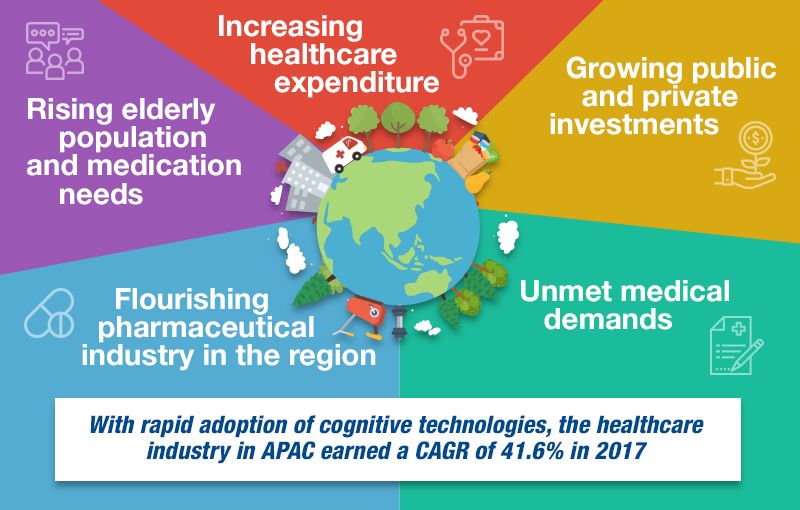 Leading Use Cases of Healthcare Cognitive Computing
The report from "Research And Markets" also points out some of the successful real-time examples of cognitive healthcare.

The U.S. based Intermountain Hospital uses NLP to identify information associated with cardiac patients, cancer patients, and venous thromboembolism patients.

Rhön-Klinikum AG, a German private hospital group partnered with IBM on a 12-month pilot project for detecting rare diseases and finding their cure using IBM Watson.

In August 2016, IBM Watson aided in the detection of a rare form of leukemia in a patient in Japan.

Watson NLP is capable of cross-referencing and analyzing data from millions of oncology research papers from institutes across the world.

In November 2017, the first open platform to accelerate the adoption of AI for medical imaging was launched by Nuance Communications Inc.
Providers, patients, hospitals, pharmacy, public health organizations, and everyone in the healthcare ecosystem are taking the pulse of cognitive applications now. Technologies like Natural Language Processing enhances the accuracy of electronic health records by translating free text into standardized data. Summarizing insights from massive volumes of medical or health publications and identifying expert care givers from among a vast number of medics now occur in less time with the application of NLP.
As stated in the above research, healthcare is making way for "cognitive care management".
Source: Healthcare Cognitive Computing Market by Technology, by Deployment Model, by End-User and by Geography – Global Market Size, Share, Development, Growth, and Demand Forecast, 2014-2024 https://www.researchandmarkets.com/
Want to discuss your project?
We can help!