Why your organization needs a digital transformation strategy
According to PTC, enterprises spent more than $2 trillion on digital transformation in 2019 alone. The onset of the pandemic has only increased this spend, as it has underscored the need for organizations worldwide to embrace digital transformation. There is an urgent need to address the evolving business landscape and craft strategies that focus on leveraging the full potential of digitization and turbocharge the business.
Digital transformation is not just about technological advancements within an enterprise. A successful strategy will also focus on changing the mindset of the stakeholders within a company. Upskilling the workforce, and instilling a new culture is as critical as upgrading technologies within an organization.
How can companies benefit from digital transformation?
Transforming customer experience: Digital transformation allows companies to understand what the customer needs by analyzing data collected. Digitally-enhanced touch-points give customers the freedom to interact with a company on multiple platforms. Businesses must continuously strive to provide top-notch experiences to keep them coming back for more.

Reducing opex costs: Automating critical areas of the business through transformation will help free up essential resources and subsequently get more done with less. This will lead to reducing overall operational costs within an organization.

Optimize business strategies: Critical business decisions can be taken in real-time by harnessing and analyzing the large amount of data collected through a transformational approach.

Reduction of silos across departments: Digitally transforming an entire organization can be a daunting prospect for its employees. However, this would encourage more reliable communication between different teams to engage in meaningful that will increase the workforce's overall digital intelligence.

Increased scalability: Enterprises will be able to leave legacy systems behind and utilize the power of scalable alternatives. Digitization helps integrate software and processes much faster so that the different parts of a business are connected, and more responsive to newer trends in the market.

New business models: Innovation through business transformation will lead to penetrating unexplored markets with more unique products and services. With better decision making through data analytics, niche products can be developed to target specific buyer markets.

Risk management: Technology and processes become outdated over time, and maintaining and protecting data is often challenging. Digital transformation strategies use modern tools to improve the efficiency and reliability of newer initiatives.

Prevent errors: Using transformational strategies to automate laborious tasks can increase accuracy and reduce the scope of human error in everyday endeavors. Task management tools can be utilized to keep track of processes and deadlines.
What are the digital transformation trends of 2020?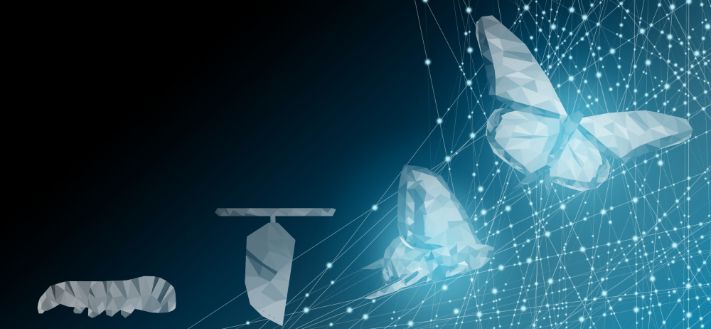 Data Analytics: Data is at the heart of everything that encompasses digital transformation. Business leaders will try to unlock the potential of this mostly-untapped gold mine to uncover insights that would help increase revenue, streamline business processes, and improve customer service.
Designing application for multi-cloud computing: Many businesses worldwide use multiple cloud platforms to manage their varied requirements. This kind of hybrid environment will give rise to security challenges and compliance issues. Developing applications that use API-led integration capabilities will have a greater scope in the coming years.
Leveraging AI: Organizations will leverage machine learning and AI to personalize customer experiences and increase productivity. AI solutions like intelligent chatbots are now a norm to provide 24/7 customer service support. AI can also be used to automate basic tasks and offer personalized solutions to customers based on data collected over a period of time.
The road to digital transformation is complicated, and Zerone has the right capabilities to ensure that it can suggest the right digitization path for your company based on your organization's individual needs and challenges. Zerone's expertise in creating innovative ways to re-imagine your processes using digital elements. Modernizing legacy systems and infrastructure is a key focus area that helps in improving productivity and profitability. Zerone's RPA solutions help in digital transformation by decreasing operational inefficiencies and increasing scale by automating daily tasks. Zerone developed an interactive AI solution that digitizes paper forms that allowed clients to continue administrative tasks while collaborating remotely. Agile methodologies were used for product development, and IBM Watson was used to provide a more conversational experience for the user. Talk to our expert to learn more.
Want to discuss your project?
We can help!