Voice Search: The Conversational Interface of Future Business
Imagine you just visited a Walmart store after work to purchase your weekly groceries. While driving back home, you suddenly remember that you forgot to buy your pet's favorite dog food pack. You're almost near your home and you can't afford to visit the store again. What will you do? Reach home, browse, and order the product online? Well, that takes a lot of time, doesn't it? All you need to do while driving is to tap your phone and talk to Google about your requirement. It will be fulfilled! "Voice Search is captivating the digital world today".
The example given above is a use case of Google's recent deal with Walmart that enables customers to "voice shop". This is facilitated through Walmart's Easy Reorder program, powered by Google Assistant. In 2016, 20% of searches done on Google's mobile app and on Android devices were voice-based. All major performers- Apple, Microsoft, Google, and Amazon- are eagerly into the digital assistant game which makes one thing sure: "Voice search technology has almost become ubiquitous".
What is voice search?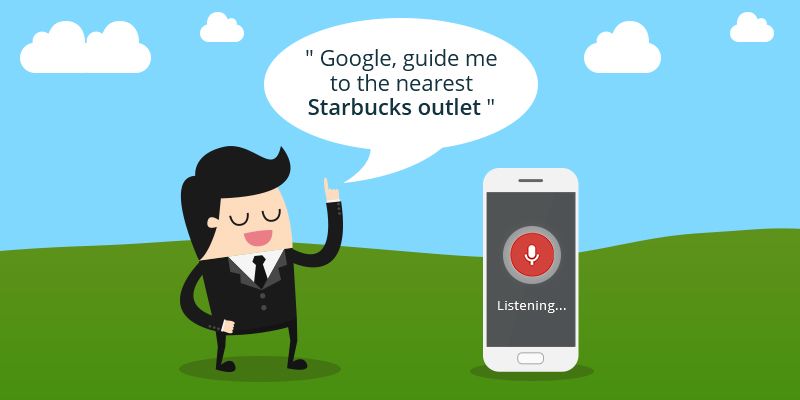 Voice search is a speech recognition technology that enables you to tell your device, what to search for. It replaces the conventional way of text-based search and minimizes your effort to key in the specifics. Forbes expressed that 2017 will be the year of voice search. True to the statement, last year witnessed the boom of the technology, with Google being the key player. Voice search enables smart, hands-free querying that facilitates multi-tasking. Since majority of people use mobile devices to browse online content, they find it easier to speak to their device and suggest what to look for. This trend is set to create a revolution in search engines, and businesses need to respond fast. It is essential to understand how you can optimize voice search to improve your business.
Why voice search is significant for your business?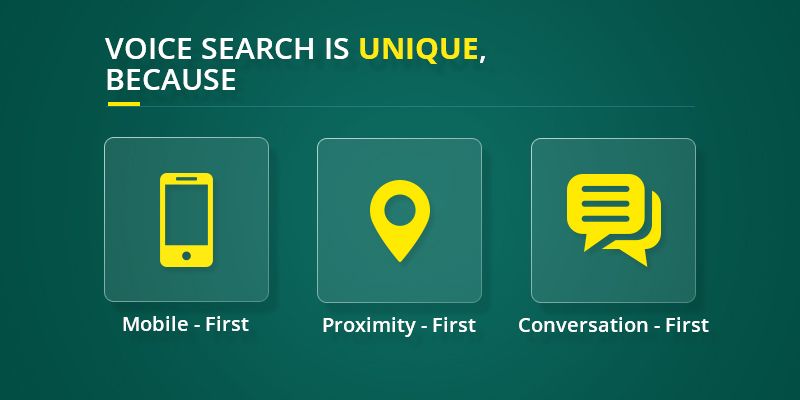 The key differentiator is that your customer's search query becomes more conversational. For example, in text-based search, user might just type "Paris hotel deals", whereas in voice search, the individual tends to interact more, as they talk to the device in a detailed language. For instance, user will say, "Show me the best hotel deals in Paris priced below £40". Search is going beyond keywords, as search engines try to understand the meaning, context and intent behind the queries to deliver optimal results. This necessitates businesses to adopt new strategies to get themselves found easily via voice search.
Moreover, user will be influenced by the physical proximity of the business or service provider, to what level the business engages with its customer, and the online rankings, reviews or ratings of the business. In simple words, while a user might not have the patience to type a lot of search questions, and use only a few keywords, voice search is becoming a tipping point.
Optimizing your business
Slowly, the importance of search boxes and browsers will decline, as the current internet connected devices such as PCs, tablets or smartphones change to thermostats, smart TVs or watches, smart cars, wearable etc. Most of these devices will be devoid of browsers and search boxes. The mode of interaction will be through a conversational interface.
Here are a few ideas that you could follow to stay ahead of the competition posed by voice search:
Offer outstanding mobile experience to your customers. Make your site mobile-friendly. In a few years, more than half of the voice searches will happen through mobile devices. It's advisable to avoid Flash on mobile pages, since Flash is not supported by most mobile browsers. You must ensure that your mobile site is not blocking videos, images, CSS, JavaScript etc. Deliver a quick mobile user experience. Most of the visitors tend to abandon websites that take more than three seconds to load. If your brand is following SEO best practices to optimize for long-tail keywords, you're already on the track. Target "spoken long-tail keywords" to build up a semantic keyword list. This will help you in the long run. Proximity of the service provider is valued more by customers. It's crucial for you to rank high in the local searches made through digital assistants. While optimizing for voice search, the focus should be more on local search terms. Most of the voice search queries begin with 5Ws and 1H (who, what, why, where, when and how). Your website's FAQ page should ideally take this feature into account. It helps search engines to quickly retrieve answers to the common questions. Phone answering is still a widely trusted method of response among customers. Users often try to reach the telephone numbers listed in the search results, to save their time and get prompt answers. There is no time to make guesses! This applies to voice search as well. For instance, when you voice search for nearby Italian restaurant deals, you can directly ask, "Google, call Randy's Italian Restaurant" to check out the offers. Having a call tracking software is integral for your business, as it can be customized to track the performance of voice search. To begin with, these are few of the basic principles which businesses need to implement. Just as the birth of search engine set off a revolution 20 years ago, voice search is leading us to an age of major disruption. A recent quote from Google reveals the fact, "Our goal in Speech Technology Research is twofold: to make speaking to devices around you (home, in car), devices you wear (watch), devices with you (phone, tablet) ubiquitous and seamless." That's exactly what Amazon, Apple, Microsoft, and Google are doing by setting their feet strong in the ever-evolving virtual assistant market.
Zerone develops bespoke software solutions carefully customized for the needs of our clients. Contact an expert today
Want to discuss your project?
We can help!