Why Artificial Intelligence is the Key to Transforming Travel in 2019
Imagine yourself getting stranded in an unfamiliar place during your vacation. You desperately need to know your current location, and the approximate distance it takes to reach your destination, and the best route available.
What will you do?
Simply take the smartphone from your pocket and track the location details using google maps. There's no wonder if I say AI is your pocket companion.
From google maps to voice or digital assistants, artificial intelligence has taken the travel industry by storm and the technology seems to be reinforcing its grip more than ever in the coming days.
If the internet once transformed the whole travel planning and delivery into a convenient online experience; artificial intelligence technology is personalizing the whole travel experience today.
How artificial intelligence is poised to transform the travel industry in 2019?
Travel Industry's Artificial Intelligence Pursuit
In a study conducted by Google in collaboration with Phocuswright (a global travel market research company), it's been revealed that 57% of U.S. travelers feel that brands should provide them customized information based on their personal preferences or past behaviors. The same team also notes that 36% of these people would be willing to pay more for such a personalized experience.
Similarly, Booking.com (renowned travel aggregator website) denotes that 80% of customers prefer to self-serve in order to get the information they need.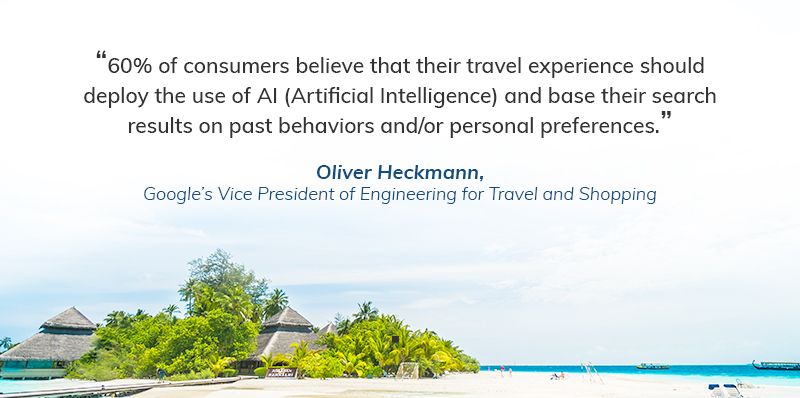 While travel customers rely on data extensively to make decisions, they also expect highly personalized data to be given to them, without getting themselves engaged in prolonged human interactions.
Why so?
Most of the customers hate to stand in long queues in front of information centers or help desks. Neither do they like to visit a travel agent's office to book hotel rooms or reserve flight tickets. This is where artificial intelligence comes crucial. AI and machine learning offers the ability to create customized recommendations based on a user's preferences and previous travel experiences. The technology bestows travelers with an experience that is truly personal for them to take ownership of their entire itinerary.
On one hand it changes travelers' experience, while also providing sellers with customer data for deep analysis, so that they can tailor results in accordance with the customer's preferences. Communication platforms with built-in intelligence can understand and interpret large amounts of customer data. This enables sellers to offer a highly personalized customer experience.
A Few Industry Cases
Lola is an innovative travel app created by the founders of KAYAK, intended to simply corporate travel management. Lola combines AI with human agents to provide assistance for hotel bookings, flight schedules and advice on restaurants.
Another case is that of KLM Royal Dutch Airlines that has turned to AI for a more sustainable solution to automating customer requests. KLM uses AI provided by DigitalGenius, which now supports over 50% of all its inquiries.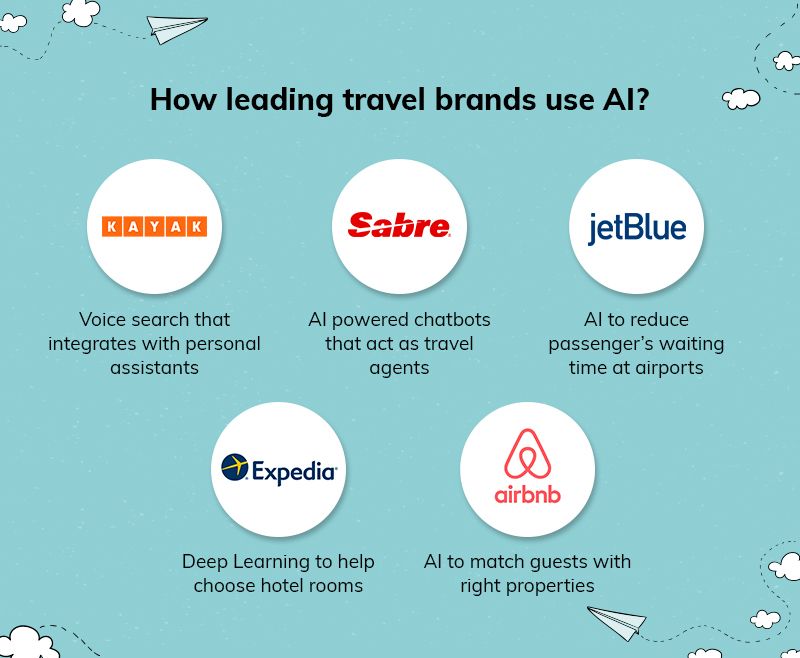 Four Ways AI Reshapes Travel
AI brings substantial changes to the way travel is managed and delivered. Following are the four areas where AI can influence to provide better assistance to the sellers and also elevate the customer experience.
Personalized digital interactions:
While the world of internet provides a plethora of information, you need to scan hundreds of websites and read copious amounts of descriptions, terms and conditions, user comments, and instructions before arriving at a decision. What if your smartphone has a conversational app that can extract only the required information or perform the booking for your sake, by factoring intent and context into your conversation? A leading example of conversation-based digital interaction is the chatbots. Bots can be configured to understand your language and they help you book or place the order instantly.
Bots rely on Natural Language Processing (NLP) to attain complex personalization using AI. For example, Chinese speaking travelers can use bots to quickly negotiate their way around the busy Heathrow or Frankfurt airport without speaking a foreign tongue. Another attractive advantage of bots is their ability to scale almost infinitely. Say you are making a visit to Bali in Indonesia and your bot will help you scale almost immediately by alerting you on any forthcoming storm or tremor. AI's role in helping out travelers in times of distress is expected to go a long way.
Combining facial recognition with blockchain:
Traveling, especially to multiple foreign destinations often requires frequent scrutiny of travel documents by different sets of officers, at different locations. Introducing facial recognition technology can bring an end to these tedious paper-bound processes. With facial recognition, it becomes easy for travelers to move seamlessly through airports, customs, immigration desks, and board flights without wasting their time. A unified facial recognition system could ease traveler's burden of spending more time on paperwork.
Combining facial recognition with blockchain ensures that reliable and verified traveler data is made available to complete transactions that involve travelers such as dining at restaurants, seeking entry to entertainment halls, or shopping.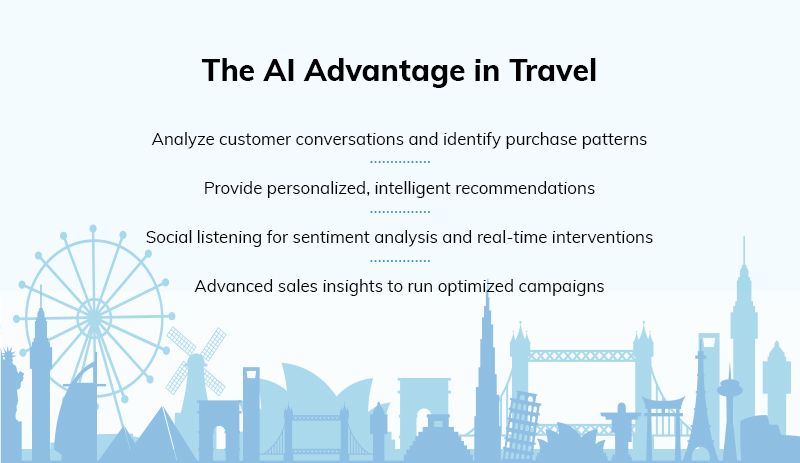 Machine learning:
The significance of machine learning in travel industry is growing fast since the providers need to position their messaging and services based on the context and behavior of the travelers. Mindtree's recent survey indicates that among those who receive offers from travel providers, only 23% rate the services as excellent in terms of catering to travelers' preferences, while only 31% report utilizing the offers every time. 45% respondents say that the offers don't arrive at the right time.
This is where machine learning becomes the secret persuader to boost sales. Apart from internal data collected through user behaviors, machine learning has the ability to evaluate external data, such as a sudden deviation in the travel plan due to a bad weather or a regional calamity, and suggest alternative recommendations to travelers. For instance, Mindtree's "Connected Traveler" uses machine learning to integrate traveler data from various sources and generate a 360-degree view of traveler behavior that helps providers plan their strategies more effectively.
Social Media's Potential: Social media listening tools offer the potential to manage the online reputation of travel brands. For instance, Hootsuite is a free third-party monitoring tool that allows you to monitor what people say about your brand on social media, even if they don't post their opinions in your own social media channels or don't include your social media handle. Hootsuite's survey analyzes that about 59% of Americans who use social media say that social customer service has made it easier to resolve customer complaints.
Tools like Hootsuite can interpret social sentiment and associate it to the traveler's experience. For instance, consider a travel customer who gets frustrated with a sudden flight cancellation and posts a comment about their experience in social media. The listening tool can analyze the customer's intent and the context which enables the provider to intervene in real-time and support the customer. Integration of AI-powered bots could augment social listening tools, as the bots can parse through unstructured data and use natural language processing to respond swiftly to customer woes via digital channels.
Artificial Intelligence's Journey Ahead
AI's influence is all over the travel ecosphere. Right from chatbots that support flight or accommodation bookings to in-room assistants like Alexa, AI is learning more about traveler behavior to personalize the whole experience. One key aspect that will ramp up in 2019 is the voice assisted self-service systems that offer high speed and convenience to both companies and customers.
Technavio observes in its Global Travel Technologies Market 2019-2023 report, "The widening application of AI in the travel industry is identified as one of the key trends that will gain traction in the market during the forecast period". Travel industry generates a huge volume of customer data, the food for AI based researches. The upcoming AI revolution in the industry is going to be one-of-a-kind.
Have you thought about the different ways in which AI could modernize the travel industry? Leave your thoughts in the comment box below.
Want to discuss your project?
We can help!