Why IoT Should be the Investor's Choice in 2018?
The IoT glam is set to glow brighter, making it the core technology to look ahead in the coming years. According to a study conducted by 451research.com last year, IoT dollars are most spent currently on initiatives including data center management, surveillance and security monitoring. In the next couple of years, the focus of IoT spending will extend to two crucial areas of business: facility automation (operations) and supply chain management (line of business). 451research.com surveyed more than 575 IoT decision-makers worldwide and 65.6 percent of respondents plan to increase their spending for IoT projects over the next 12 months.
From tech giants to small sized enterprises, businesses are avidly pursuing IoT in 2018. What makes IoT the investor's choice?
Factors Behind Growing IoT Adoption
Majority of the organizations experiment with IoT and invest in large-scale initiatives due to two reasons: business benefits and outcomes. The expectations to scale and increased ROI from IoT initiatives compel organizations to fast track their IoT implementations. Early adopters of IoT are using metrics and KPIs today to point towards improvements in operations, customer experience, logistics and supply chain management. Many organizations that concentrate on IoT today look at improving the speed, accuracy and scale of supply chains. IoT has the potential to redefine quality management, compliance, traceability and Manufacturing Intelligence. The most competitive areas of IoT will be enterprise and industrial segments.
Since 2014, IoT is enabling smart solutions in sectors including agriculture, automotive and infrastructure. In the emerging countries of APAC region, the growth of IoT is attributed to factors like increase in mobile and internet usage and development of next-generation technologies. The leading beneficiary of IoT in 2017 is the manufacturing sector, with the hottest applications being industrial asset management, inventory and warehouse management and supply chain management.
Bain & Company predicts that B2B IoT segments will generate more than $300B annually by 2020, with $85B coming from the industrial sector.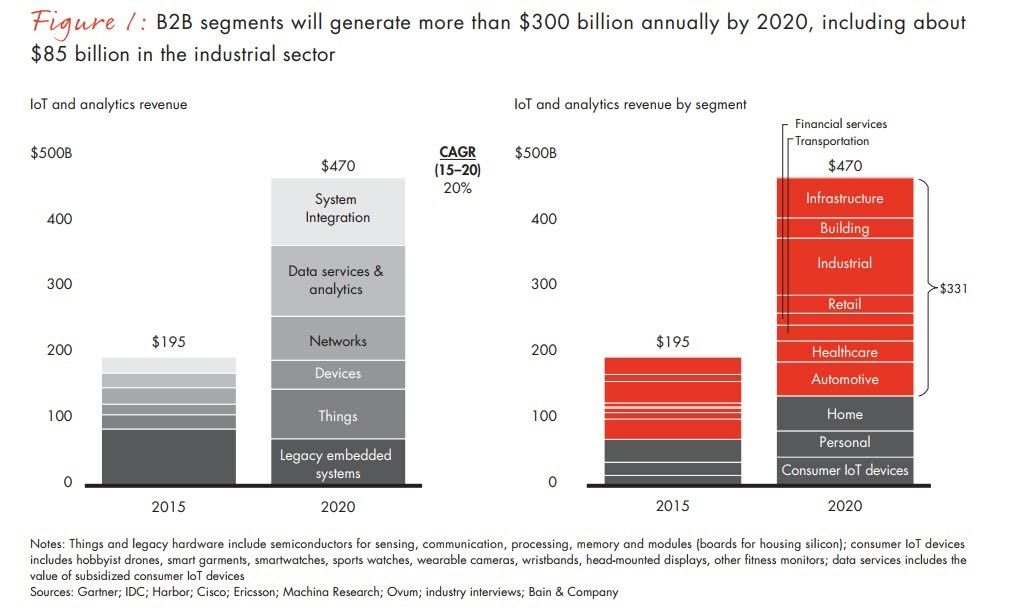 The Manufacturing domain is closely followed by Transportation and Logistics, and Utilities segments that will lead all industries in IoT spending.
In the next four years
The global enthusiasm for IoT has triggered more than $80B in merger and acquisition (M&A) investments by major vendors. Microsoft's latest official release announces that the tech giant is planning to make a global investment of USD 5 billion over the next four years on Internet of Things. This increased investment will support continued research and innovation in IoT.
Presently, the data generated from IoT solutions are mostly used for improving customer experience, safety, supply chain visibility, organizational capabilities and gaining cost advantages. Enterprises expect IoT solutions and data to increase revenues and open new markets in the next years.
IoT investments by businesses will grow from $215B in 2015 to $832B in 2020, while consumer spending on IoT solutions will rise from $72B to $236B.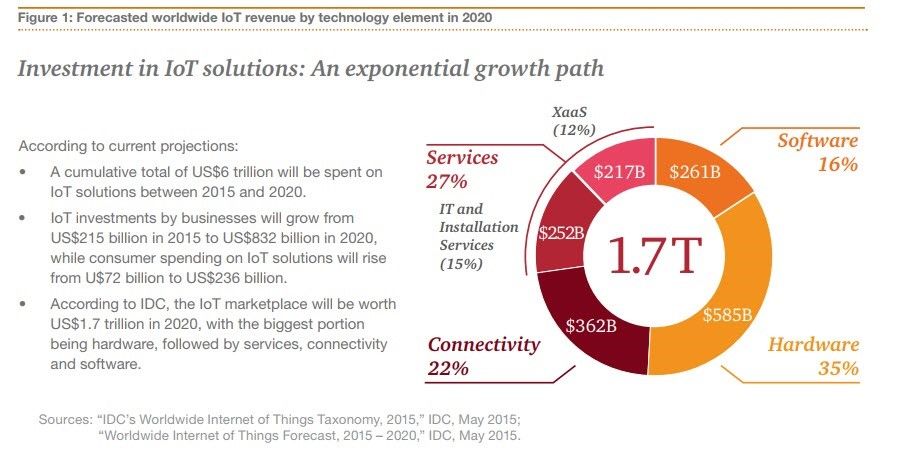 Source: PwC
Key challenges to the growth of IoT involve security and scalability of existing as well as new connected devices, adherence to open standards, and large-scale monitoring of multiple systems. Boston Consulting Group calculates that the most transformative effect of IoT will be on industries that are not currently technology-based. In these use cases, the success depends on secure, scalable and reliable end-to-end integration solutions that comprise on-premise, legacy and cloud systems, and platforms.
With the advancement in IoT, the dividing line between reality and virtual reality is becoming thin. IoT has the potential to change the world, just as the internet did 20 years back. Undoubtedly, Internet of Things should be the investor's choice in 2018.
Related read: Emerging Trends in IoT.
Want to discuss your project?
We can help!